Roseville is Open to Business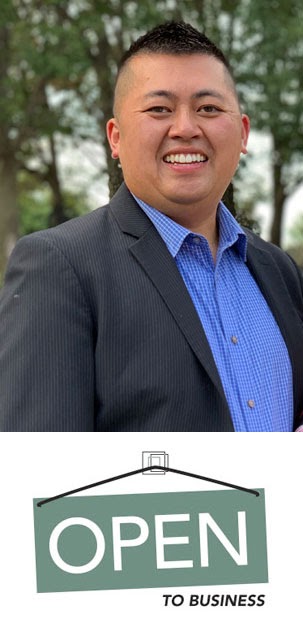 As a business consultant dedicated to helping entrepreneurs find ways to make their dreams a reality, Noah Her had to reflect on his role with Open to Business when the COVID-19 pandemic hit the Roseville area last year.
"Industry was at a standstill and we did not know what to do at first," said Her. "COVID-19 really threw a wrench into our work, but we pivoted from advising how to start a business to how businesses could survive."
Open to Business is a business consulting program of the Metropolitan Consortium of Community Developers. Staff such as Her offer free one-on-one business advice and consulting service for current and prospective entrepreneurs. It partners with cities and counties to make that assistance more readily available.
Her first brought his Open to Business services to Roseville in the second half of 2019. His upbringing is critical to his ability to serve others. His parents moved to Central Wisconsin as refugees of the Vietnam War and he literally experienced the American Dream, learning of economic opportunity as his parents started their own businesses.
"My background really helps me to be able to put my feet in someone else's shoes to determine if an investment is worthy for them," he said.
Pivoting in 2020
As the COVID-19 pandemic became a reality in the spring of 2020, Her and Open to Business had to take stock of their business practices. In January and February, Her was on track to double his client base, but that came to a halt in March and April. It quickly became apparent that Her had to pause advisory meetings with business owners or entrepreneurs and switch to small business economic relief, helping municipalities provide the funding available to them for ailing businesses.
"During those downtimes, when we did not really know what or how stimulus would be available, I told clients that the best thing they could do was to get to know their numbers," he said. "Getting to know their operating and labor costs better was critical to be able to work quickly with banks once the financial assistance was available."
Roseville Helps
Open to Business has had a significant impact in Roseville, helping 14 businesses located in the city and 11 other Roseville residents with businesses throughout the metro area. That work covered a total of 113 hours helping them get 31 applications approved for $297,200 of COVID-19 relief.
Her said it was difficult to see so many Roseville businesses suffering with a loss of cash flow, including restaurants ordered to shut down and travel industry support businesses when the overall travel industry decreased to a fraction of what it had been.
"But it was heartening to hear these businesses be so appreciative of the assistance provided to help them survive," said Her. "And much of that is attributable to the approach the City of Roseville took."
Her said Roseville is extremely pro-business and consistently seeks to invite and sustain businesses, regardless of their size. The proof of that approach is in the city's management of its economic relief funding.
"Some municipalities chose to not put back everything into their community, but Roseville did," he said. "I saw the city staff go above and beyond what I thought was possible during the pandemic to invest in Open to Business and getting COVID-19 relief to their businesses to continue to attract, nurture, and grow their community."
2021 Expectations
Her said his plan for 2021 is to get back to the traditional advising and build hope and optimism in local entrepreneurs. He has already seen a slight increase in January of more clients coming in to speak with him about starting a business, which he hopes is an indicator of economic progress turning a corner.
"While it is completely disheartening to hear of business closings, we must realize that this offers opportunities for new businesses or for current owners to reinvent their business model to react to new customer demands," he said.
While Her sees opportunities now, he still advises individuals to be cautious. He pointed to the fact there has not been a fall in real estate typically expected in a traditional recession, but believe that is coming. New investors should do their homework to understand pricing history and use common sense to not overpay for a property that leaves them overextended. But that should not keep individuals from pursuing their dreams.
"At Open to Business, we are laser-focused on building wealth into underserved communities and I invite anyone who is looking to discuss an idea, to come talk with me so we can flush out the pros and cons," said Her. "I am eager and excited to meet entrepreneurs and bring their ideas to reality."
For more information on how Open to Business can assist you, contact Noah Her at nher@mccdmn.org or 612-294-1911.
The Roseville Economic Development Authority (REDA) coordinates and administers economic development and redevelopment initiatives for the City of Roseville, MN. It serves as a comprehensive resource for businesses seeking to startup and grow in the area. In addition to prioritizing business retention and expansion, the REDA connects area employers with the dedicated and talented workforce they need to succeed and thrive.