Healthy Ingredients Signal Restaurant's Gratefulness to Customers
Clean, natural produce is a vital ingredient to a healthy diet. But it can offer much more.
"Fresh produce has such a positive life-giving ability," said Mary Robideaux, co-owner of the Grateful Table in Roseville. ""If there is ever a day I am feeling crabby, I go sit in the sunlight of our little farm and those thoughts go away, leaving me much happier!"
The 'little farm' is actually inside the bakery, cafe and retail shop she owns with her daughter Christine. It consists of 13 aeroponics towers, filled with a broad range of fresh produce, growing under the LED lights providing that 'sunlight.'
No soil; No harmful ingredients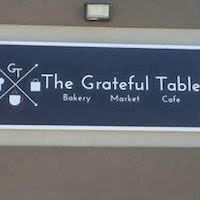 Aeroponics is the practice of growing plants indoors without soil, requiring only water, sunlight with their roots hanging freely in a vertical tower to receive a consistent mist of nutrients. The plants get the sunlight they need from LED lights mounted on each tower.
"Our 13 towers are in a space of about 300 square feet, but have the equivalent growing capacity of ¼ acre of agricultural land," said Robideaux.
This past summer, Robideaux added the aeroponics towers to grow much of the produce she uses in the restaurant. Swiss chard, elephant kale, various lettuces, hot peppers, mint, cilantro and dill are some of the plants.
"We will go home at night and come back in the morning just amazed at the new growth," she said.
Natural theme
Robideaux and her daughter opened the Grateful Table in 2015 featuring clean, natural ingredients. She points to her grandmother's influence for that theme.
"They came from Poland and had a love and passion for making foods from scratch," she said. "We strive to be like them, being as authentic as possible."
The desire to switch to aeroponics had an additional personal reason for Robideaux. Her husband passed away in 2020 after years of battling cancer, a result of his time spent overseas during the Vietnam War.
"Sourcing produce without harmful agricultural treatments today is difficult, so we had to ask ourselves how to best protect our customers' health, not offering produce that may have been treated in ways that could be carcinogenic," she said. "We had to be true to ourselves and make sure our ingredients are as clean and natural as possible."
Aeroponic towers are common in commercial institutions nationally. A significant portion of produce sold at Disney World is grown in its Epcot Center via aquaponics. The O'Hare Urban Garden has a series of aeroponic towers between Terminal 2 and Terminal 3 of Chicago O'Hare International Airport to grow up to 1,100 plants and provide fresh produce to restaurants both inside and outside the airport year-round.
After starting with three towers with seamless production, Robideaux "bought the farm" - getting an additional ten towers.
"We have been harvesting for a few months, going through a learning curve to get as much production out of them as we want," she said. "But more than anything, it is such a wonderful feeling to see the chefs go with so much joy and happiness to harvest from our own little farm!"
Customer-approved
The reactions of customers is rewarding, said Robideaux.
"It is wonderful to see how customers react to experiencing real, vibrant flavor," she said.
For Robideaux and her daughter, providing healthy meals is one way they can show their thankfulness to the Roseville community. Customers consistently have frequented her business before, throughout and since the pandemic, she said.
"Their closeness is so precious to us here - we love them all," she said. "I hope they know how kind they are and how happy they make us feel to be part of this community."
The Roseville Economic Development Authority (REDA) coordinates and administers economic development and redevelopment initiatives for the City of Roseville, MN. It serves as a comprehensive resource for businesses seeking to startup and grow in the area. In addition to prioritizing business retention and expansion, the REDA connects area employers with the dedicated and talented workforce they need to succeed and thrive.