Blending Coffee and Community in Roseville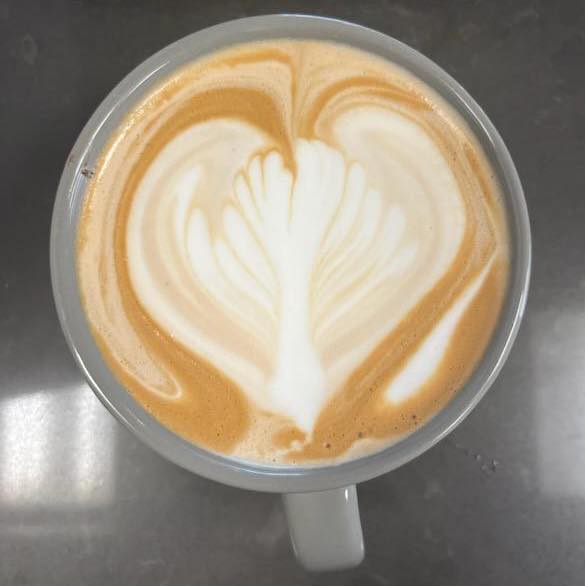 The retail experience in Roseville, MN, is extensive, with almost every conceivable national chain restaurant or store. For Jamie Becker-Finn, she felt something was missing.
"I'm not disparaging the chain stores because they all have a role, but there are not a lot of unique, individual small shops here," she said. "I thought of opening a business that could build community, with a goal from the beginning to create community space, not just a coffee shop."
Becker-Finn ventured into entrepreneurship by opening Makwa Coffee in Roseville's Hamline Shopping Center in July 2022. Makwa Coffee is an independent craft coffee shop focused on locally sourced, high-quality coffee, tea and other items. Its flagship drink is the Ziigwan - Ojibwe for 'spring' - a cold brew concoction with oat milk, caramel and real maple syrup.
"We sell hundreds every week, so we have to make it a gallon at a time to keep up," said Becker-Finn.
Other signature drinks include the Aurora & Chill, a green tea lemonade with blueberry to match the colors of the Minnesota Aurora FC women's soccer team, the Super Bon Bon dark chocolate mocha with mint and pistachio and the 5051, a cold brew with a shot of espresso, named after the local firefighter union.
"We aim to serve our community with high-quality products and a true craft experience in a unique, safe and welcoming environment for everyone," said Becker-Finn.
Being intentional
Makwa Coffee's location was an immediate plus for Becker-Finn, not far from her home.
"I can walk or bike there. This is the neighborhood where my kids go to school. This really is my community," she said.
The intentionality behind Makwa Coffee's operation is readily apparent. The focus on high-quality, local products begins with the coffee beans, which Becker-Finn gets from True Stone Coffee Roasters in St. Paul. She sources her tea from Roseville's TeaSource, honey from small farms in southern Minnesota, and bakery items from small local businesses like Fruit & Grain.
Becker-Finn is Leech Lake Ojibwe and grew up in the Cass Lake area in northern Minnesota. As an Indigenous business owner, "I want to be intentional about everything we do here, including embracing that Makwa Coffee is Native-owned," said Becker-Finn. "Makwa" means 'black bear' in Ojibwe and Becker-Finn hired an Ojibwe artist to design their logo. Ojibwe language is incorporated throughout the shop, Native artists and authors are featured regularly, and hand-harvested wild rice from Leech Lake is also sold right alongside bags of coffee beans.
It was also important to Becker-Finn to create a safe and welcoming environment for the LGBTQ+ community. "There aren't a lot of openly queer-owned businesses in our area and it's important to me that everyone knows they are truly welcome here," she said.
For the community
Starting the business as a community resource means listening to what the people want. Large coffee corporations often rotate their drinks or flavors, but many customers want those year-round, said Becker-Finn.
"The whole idea is that we can make you the drink that will make you happy," she said. "As long as people keep ordering something, I'll keep stocking it!"
Going well beyond coffee, Makwa Coffee has become a community gathering place. It's a host site for a community book club, pop-up artist sales on Sundays and the space is available for rentals in the evenings.
She stays open late on Thursday nights for things like craft nights and opens up at odd hours to host watch parties for events like World Cup games. "Especially post-pandemic, I think a lot of people are recognizing how important it is to be able to gather together," said Becker-Finn.
"It has been heartening to learn how much the sober community appreciates the late hours because there are not many options after 7 p.m. that do not revolve around alcohol," she said. "That goes for young people too, as they also need safe places to hang out, play cards and enjoy being together."
The community resource aspect extends beyond the business' footprint. Becker-Finn purchased an electric pickup truck to do events in the community, like serving coffee onsite at games for the Minnesota Wind Chill, a professional Ultimate team, and now offers coffee delivery for catering and larger events.
Looking forward
After one year into the experience, Becker-Finn now has nine employees, from high school age to semi-retirees, all with some connection to Roseville. She has not had an issue maintaining staff, so she can focus on the future, like getting into the Minnesota State Fair with their Ziigwan specialty drink.
"I definitely need and want the shop to become more financially viable, but this was never about maximizing profit at the expense of our values," she said. "I saw a gap in the community and want to continue to be that resource for everyone!"
Makwa Coffee
Twitter - @MakwaCoffee
2805 Hamline Ave N • Roseville, MN 55113
651-300-7946
The Roseville Economic Development Authority (REDA) coordinates and administers economic development and redevelopment initiatives for the City of Roseville, MN. It serves as a comprehensive resource for businesses seeking to startup and grow in the area. In addition to prioritizing business retention and expansion, the REDA connects area employers with the dedicated and talented workforce they need to succeed and thrive.